Next up are these, what I call, Who Trees, made from National Non Woven felt. The idea grew from a free tutorial on Joggles.com. In fact there are two tutorials that Barb did for making simple felt trees.
And if you like those tutorials, find the full list here. Barb has a ton of fun things to make and most are done in a video format. You just might find some ideas for your gift giving. Everything she has done, are quick and easy projects.
I took my trees a few steps further by giving them a nod to Whoville. I love the Jim Carey version of The Grinch and when you see the over the top decorations in Whoville, you see where my inspiration came from. The original cartoon version is also a good example, although much tamer as far as the trees go. So sweet.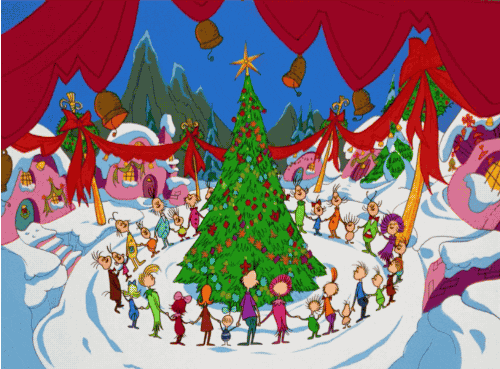 There are the first three trees and I'll post the other three in a couple of days… I've used some of Barb's ideas for decorating them, but mostly I just started adding all kinds of things. I was given a bag of charms and have used some of those, such a snowflakes, stockings, multiple colours of acrylic trees and more. Every single embellishment was sewn on by hand, there was no quick way to do that. ;o(
I added buttons, sequins, ribbon for garlands and so much more. The wooden snowflakes on the top I've had for a while, they came from a candle shop. I've posted two pictures of the blue tree, just to show you I decorated both sides of each tree. In real life they really are so much better to see. ;o)
At the base I painted the trunks either gold or silver and on a couple I added some snow. A variety of presents and sweet treats surround the base. The bases themselves are covered on top with fabric with an under layer of batting, the bottoms are covered with felt. There are two smaller size trees at approx. 10" tall, the other four are closer to 13". I hope you like them, I'll post the rest soon.