I didn't realize how many white things grow in my garden. It was quite surprizing when I walked around with my camera and started adding them up. While I can't remember all the names of them, most of them I do.
We aren't bee keepers exactly, but we do have Mason Bee houses and each year we clean them up in the winter, and the cocoons go out in late February in preparation for pollinating. They are eagerly searching for flowers when they hatch out and it's usually our Rosemary bush that is the first to greet them, but there are also nice white flowers that are ready. Here is a site if you're interested in these bees.
They are native to this area. They can deceive the eye into thinking they are a fly, so if you live on the west coast of Canada, along the south coast of BC and the Washington State area, be careful not to swat at them thinking they are fly's. They look similar but a closer look will show you that they are long and lean where fly's have more of a triangular shape them.
The mason bees are actually our friends and will pollinate everything in sight and give you the biggest crop of fruits you can imagine and help the other plants in your garden to be strong and healthy.
They are very gentle bees, they will not sting. I have rescued them from our birdbaths and they willingly climb up onto your hand to be saved. You can stand there and they will dry themselves off before they fly back to their homes. I've stood right beside the bee houses with dozens of them buzzing around my head and have never been stung. They are not aggressive at all.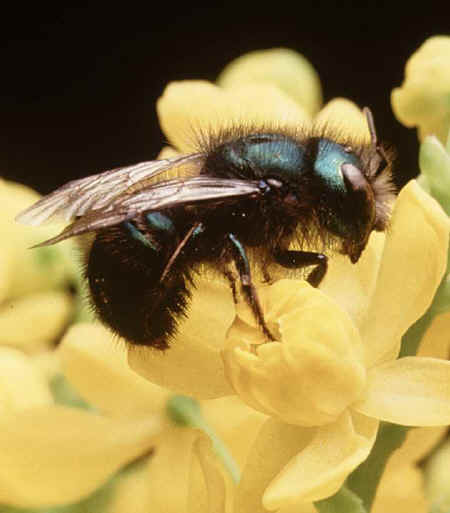 This is a Pieris Japonica, one of their favourites after the Rosemary.These are really prolific bushes and come in a number of varieties from small to very tall and some variations in colour.
The garden is showing signs of amazing growth this year. This next plant whose name shall remain a mystery for now, but is in the same family as snowdrops has not shown this growth since I put it in at least 5 years ago. I like to give plants a chance because often some just need time to adjust to a different growing location.
A close up, the blooms are approx. 1" across or a little more.
My daffodils are timed to bloom differently to. Not my doing, just the varieties and their preference I have quite a show along my driveway of the yellow daffs, along with the white narcissus and yellow narcissus but what follows them, are these two white daffs. One is the same type of shape as the yellow ones, the other is smaller and is a double bloom on each stem.
This next daff isn't entirely white, but deserves a mention. The center is soft pink with white, lightly tinged with yellow outer petals.
We planted two apple trees last fall and here is the first one to show it's sweet little blossoms. There is something very special about apple blossoms. The trees are only 2 – 2  1/2' tall, but this one is top to toe buds. I don't know if it would actually bear fruit this year, but it sure is ready to. The other one is just a little later to bud out.
Our ever bearing strawberries are warming up to give us a bounty (we hope). They are so sweet and juicy.
I forget the name of this topiary tree, but it fills up with these blossoms and is another of those that the bees find in no time. Perhaps all the white is what attracts them, bright and easy to find I suppose.
This plant is Solomon's Seal. There are other varieties, but this is the one that is native to our area. It's so pretty and I wish it was one that flowered longer. It's about 2 – 2 1/2' tall and about the same wide.
This shrub is a showstopper when it's in bloom. One year it grew at least 5' wide and tall. It was like a fountain, people walking by couldn't help themselves, they had to stop and look. This is Bridal Veil Spirea. If you Google the name you'll be amazed at how this plant presents.
I tried to remember this one, but it's not coming. It's a pretty hedge and the blooms last longer. It looks pink to start with, but the blooms come out mostly white.
A little sample of annuals that deserve a mention. I have boxes with pansies in my gazebo. Some white ones, with a bit of purple for good measure. Who doesn't love pansies, so reliable and always a joy to see in the garden in all their amazing colours and sizes…
And the last little white flower is this cute little mini carnation that I added to my pansies, love their fragrance. So if anyone out there has their horticultural hat on, maybe you can help with the names of those perennials I missed. Didn't I tell you that white is everywhere in my garden, I count 14. Subtle bits here and there but when you stop and look, see how many of the same colours you have around you, you might be pleasantly surprized.