Wow I had a busier day than I thought I would... I guess that might signal the type of year it's going to be and that's a good thing. I hope it's filled with tons of creative days. Today I spent it with a friend that I'm helping to build a website.
I don't make New Year resolutions, I stopped doing that a lot time ago. I think it's a recipe for disaster. It puts a person under to much pressure. A few years ago I decided that the only thing I would do each New Year, is promise to do my best at whatever I put my mind to be it personal or creatively.
Following my friend Serena, I've added one more concept. Serena found this post on Christine Kane's blog. The post talks about choosing a word for the year, that best applies to you and your intentions and what you see for yourself in the year ahead. The word I've chosen is Nourish.
I have since August been on a health and fitness program with the help of my Naturopath and GP. I'm doing very well with it, and so I will continue to Nourish my body with good food and exercise.
I will continue to Nourish my mind with good creative thinking and work to keep negative influences and people away from me, and surround myself with positives that keep that creative flow going.
I will also continue to Nourish my relationships with those who mean the most to me because good friends are hard to find and those relationships need to be nourished to stay healthy. With that, I will sign off. I wish you all a fantastic year ahead. Make every day count, fill it with all the things you enjoy and always find time to play.....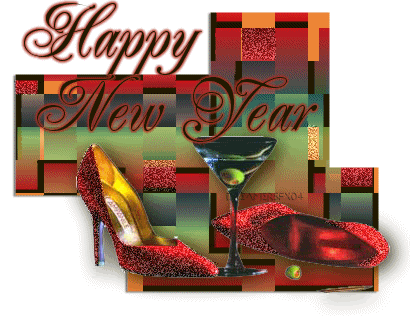 Happy New Year Glitter Pictures